LugCamp

2019
Torsdag 30. maj - søndag 2. juni
Thurday 30. may - sunday 2. june
Donnerstag 30. Mai - Sontag 2. Juni
(Kr. Himmelfart + weekend)
(Ascension Day + weekend)
(Himmelfahrt + Wochenende)
Velkommen til LugCamp 2019 i Danmark, afholdt af AlsLUG i Ullerup udenfor Sønderborg.
Welcome to LugCamp 2019 in Denmark, hosted by AlsLUG located in Ullerup outside Sønderborg, approx. 30km from the German border.
Willkommen bei LugCamp 2019 in Dänemark, veranstaltet von AlsLUG in Ullerup außerhalb von Sønderborg, 30 km von der deutschen Grenze entfernt.
Planer
Plans
Pläne
---
Campen afholdes på en tidligere skole, hvor der vil være adgang til følgende:
The camp will be held on a former school, were we will have:
Das Camp wird in einer ehemaligen Schule abgehalten, wo wir folgendes zur Verfügung haben werden
LAN område.
LAN-area.
LAN-Bereich.
Mødelokale for foredrag etc in AlsLUGs lokaler.
Meeting-room for presentations etc in the space of AlsLUG.
Besprechungsraum für Präsentationen usw. im Raum der AlsLUG.
Mulighed for overnatning i det gamle bibliotek og i gymnastiksalen..
Possibility of accommodation in the old library and the gym.
Möglichkeit der Unterbringung in der alten Bibliothek und ind der Gymnastikhalle.
Fiber-forbindelse til nettet.
Fiber-connection to the net.
Glasfaserverbindung zum Netz.
WiFi på hele området
Wifi in the entire area
Wifi im gesamten Bereich
Campingplads til telte på græsplænen bag skolen.
Camping-area for tents on the lawn behind the school.
Zeltplatz auf dem Rasen hinter der Schule.
Campingområde for campingvogne og mobilhomes i skolegården.
Camping area for caravans and mobile homes in the schoolyard.
Camping für Wohnwagen und Wohmmobile im Hof.
Forskellige foredrag.
Har du noget du vil fortælle om? Så send en mail til Various presentations.
Do you have a topic you want to tell us about? Please send a mail to Verschiedene Präsentationen.
Haben Sie ein Thema, über das Sie uns erzählen möchten? Bitte senden Sie eine Mail an lugcamp-info@alslug.dk

med detaljer, så vi kan lave en liste her på siden.

with details, so we can publish a list here on the site.

mit Details, damit wir eine Liste hier auf der Site veröffentlichen können.

Et par udflugter ud i området.
A few excursions out in the area.
Ein paar Ausflüge in die Umgebung.
Vi håber at se dig i Ullerup.
We hope to see you in Ullerup.
Wir hoffen, Sie in Ullerup zu sehen.
Please remeber to bring your passport or other valid travel-id.
There is border-control when you cross the border into Denmark.
Bitte denken Sie daran, Ihren Reisepass oder eine andere gültige Reise-ID mitzubringen.
Wenn Sie die Grenze nach Dänemark überqueren, gibt es Grenzkontrolle.
Map currently unavailable.
Lejrenes adresse er:
The adress of the camp is:
Die Adresse der camp lautet:
Bakkensbro Aktivitets- og Kulturcenter
Bakkensbro 6, Ullerup
DK - 6400 Sønderborg
GPS-position: 54.96369 N 9.65506 Ø
Program
Program
Program
---
Forløbigt program. Vi forbeholder os ret til ændringer, tilføjelser og sletninger af punkter.
Tekst med grå farve er aktiviteter som ikke er sikre endnu, eller forslag til tidspunkt for individuelle aktiviteter.
Preliminary program. We reserve the right to make changes, additions and deletions of items.
Gray color text is activities that are not confirmed or suggestive of time for individual activities.
Vorläufiges Programm. Wir behalten uns das Recht vor, Änderungen, Ergänzungen und Löschungen von Punkten vorzunehmen.
Grauer Text ist Aktivitäten, die noch nicht sicher sind oder die Zeit für einzelne Aktivitäten andeuten.
Onsdag
Wednesday
Mittwoch
19:00-ish Aftensmad. Dinner. Abendessen.
Torsdag
Thursday
Donnerstag
19:30-21:00 Some workshop?
21:30-23:00 Some workshop?
10:00-11:30 Some workshop?
12:40 Afgang til Departure for Abfart nach Sønderborg Slot
13:00-14:00 💰 Fælles rundtur med guide på Joint guided tour af Gemeinsame Führung auf Sønderborg Slot
15:00-17:00 💰 Individuel tur til Dybbøl Banke. ( primært for dem der har købt kombinations-billetten ) Individual visit of Dybbøl Banke. ( primærily for those with combo-ticket ) Einzelbesuch von Dybbøl Banke. ( vor allem für diejenigen, die das Kombiticket gekauft haben )
19:30-xx:xx Attilas Skærslipper worksshop Attilas Knife sharpening workshop Attilas Knife sharpening workshop
10:00-11:30 Some workshop?
13:00-17:00 Åbent hus for eksterne besøgende
13:00-17:00 💰 Individuel tur til Universe. ( primært for dem der har købt kombinations-billetten ) Individual visit of Universe. ( primærily for those with combo-ticket ) Einzelbesuch von Universe. ( vor allem für diejenigen, die das Kombiticket gekauft haben )
19:30-21:00 Some workshop?
21:30-23:00 Some workshop?
Afrejse Departure Abfahrt
Udflugter
Excursions
Ausflüge
---
We'll also be looking on things around the site. We hope to be able to arrange tours to these atractions.
We've arranged a guided tour in Sønderborg Slot. If you plan on visiting all three attractions, we can offer a common ticket for all three with a discount for for adults and for children.
Ticket must be bought thru our registration-form below.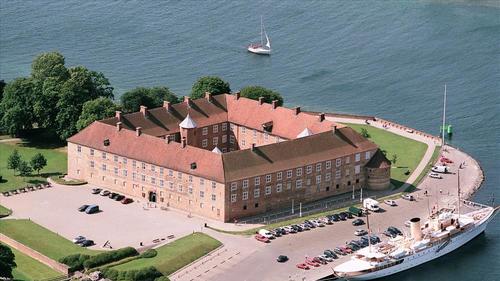 Sønderborg Slot
Museum
Fælles rundtur med guide:
Joint guided tour:
Gemeinsame Führung:
Voksne
Adults
Erwachsene
:
På Sønderborg Slot får du fortællingen om hertugerne, krigene og Genforeningen i 1920.
At Sønderborg Castle you will be told the tale of the dukes, the (Schleswig) wars and the Reunification in 1920.
Im Schloss Sonderburg erfahren Sie die Geschichte von den Herzögen, Kriegen und der Wiedervereinigung 1920.
Slottet rummer næsten 800 års dramatisk historie om Sønderjylland og Slesvig. De mange rum byder på moderne udstillinger om Sønderjyllands og grænselandets omskiftelige historie, den danske kong Chr. II's fangenskab på slottet, det danske nederlag i 1864 og de mange danskes deltagelse i 1. Verdenskrig på tysk side inden Genforeningen i 1920.
The castle holds almost 800 years of Southern Jutland and Schleswig's dramatic history. The many rooms show modern exhibitions about the turbulent history of Southern Jutland and the border country, the Danish King Christian II's imprisonment at the castle, the Danish defeat in 1864 and the many Danes participating in World War I on the German side prior to the Reunification in 1920.
Das Schloss umfasst knapp 800 Jahre der dramatischen Geschichte von Nordschleswig und Schleswig. Die vielen Räume enthalten moderne Ausstellungen zu der wechselvollen Geschichte Nordschleswigs und des Grenzlands, zur Gefangenschaft des dänischen Königs Christian II im Schloss, zur dänischen Niederlage 1864 und der Teilnahme vieler Dänen am Ersten Weltkrieg auf deutscher Seite, vor der Wiedervereinigung 1920.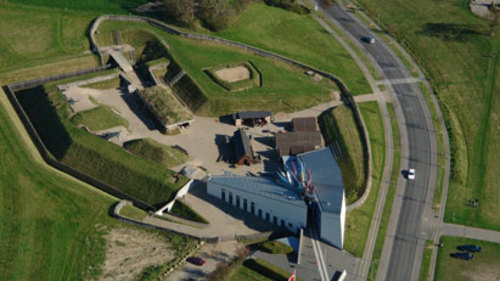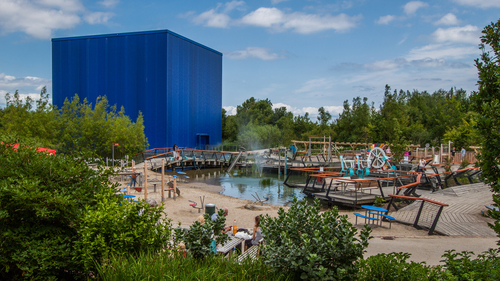 Universe
Science Park
Individuelt besøg:
Individual visit:
Einzelbesuch:
Voksne
Adults
Erwachsene
:
195.00/245.00
Børn
Children
Kinder
:
165.00/195.00
Oplevelsesparken, hvor sjov er en videnskab
The adventure park, where fun is a science
Der Erlebnispark, in dem Wissenschaft Spaß macht
I Universe vil vi gerne begejstre børn og unge for naturvidenskab, teknologi og iværksætteri. Derfor har vi fyldt parken med en masse fabelagtige oplevelser og attraktioner. Her kan I forsøge at løfte en bil, bygge jeres egen vandraket, gå på opdagelse i den virtuelle verden eller prøve nogle af vores mange andre fede aktiviteter.
Our aim at Danfoss Universe is to share our passion for science, technology and innovation with children and young people. So we have filled the park with a wealth of fabulous experiences and attractions. On your visit you can try lifting a car, build your own water rocket or roam around a virtual world. There are a host of awesome activities waiting to be explored.
Universe will Kinder und Jugendliche für die Naturwissenschaften, Technik und Unternehmertum begeistern – und genau das ist auch der Grund, weshalb es im Park so viele außergewöhnliche Erlebnisangebote und Attraktionen zu entdecken gibt. Hier könnt ihr versuchen, ein Auto anzuheben oder eine eigene Wasserrakete zu bauen, in der virtuellen Welt auf Entdeckungsreise gehen oder andere der zahlreichen coolen Aktivitäten ausprobieren.
Priser og registrering
Pricing and registration
Preise und Anmeldung
---
Tilmeldingen til hele campen omfatter:
Registration to the entire camp includes:
Die Registrierung für das gesamte Camp beinhaltet:
Følgende måltider er inkluderet i prisen:

The following meals are included in the price:

Die folgenden Mahlzeiten sind im Preis enthalten:

Morgenmad.

Breakfast.

Frühstück.

Middagsmad:

Lunch:

Mittagessen

Aftensmad:

Dinner:

Abendessen:

Onsdag:

Wednesday:

Mitwoch:

Torsdag:

Thursday:

Donnerstag:

Fredag:

Friday:

Freitag:

Lørdag:

Saturday:

Samstag:

Søndag:

Sunday:

Sontag:

(Rester fra lørdag)

(Whatever is left)

(Was übrig geblieben ist)

Aften-buffeten er forskellig de tre dage, men inkludere 2-3 forskellige slags kød, forskellige salater og flere slags kartofler.

The evening buffet is different for the three days, but include 2-3 different kinds of meat, various salads and several kinds of potatoes.

Das Abendbuffet variirt an den drei Tagen, aber beeinhaltet immer 2-3 verschiedene Fleischsorten, verschiedene Salate und verschiedene Arten von Kartoffeln.

Tilmelding kun til lørdag, indeholder kun forplejning nævnt i tilmeldingen nedenfor.

Registration only for Saturday, includes only meals mentioned in the registration below.

Die Registrierung nur für Samstag beinhaltet nur die in der Registrierung angegebenen Mahlzeiten.

Overnatning i sovesal eller eget telt eller campingvogn.

Accommodation in dormitory or own tent or caravan.

Unterkunft im Schlafsaal oder eigenem Zelt oder Wohnwagen.

Adgang til siddeplads med LAN og strøm. Der er Wifi i hele området.

Access to seating with LAN and power. There is Wifi throughout the area.

Zugang zu Sitzplätzen mit LAN und Strom. Es gibt Wifi im gesamten Bereich.